Setup
When you ingest or import an image into Expression Media, it creates a thumbnail for reference, notes the image location (file path) and reads any existing metadata - in the image file or in an XMP sidecar file.
You have three options for viewing field name labels in the program's Info panel: IPTC Core, Microsoft Expression Media and Adobe Photoshop CS. Choose one in Preferences, under the Edit menu for Windows, or the Expression Media (iView Media Pro) menu for Mac. We recommend use of the IPTC Core settings. This option emphasizes the field names preferred by the IPTC, which are not specific to any particular product and should be most familiar to those using newer applications.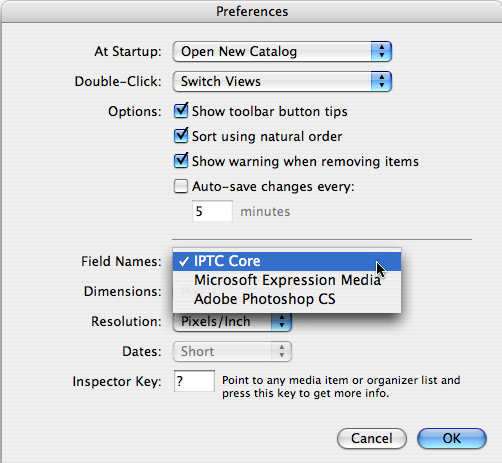 The Mac version of Expression Media shows three options for Photo Metadata Field names.